Three bedroom lakeside cabin with a little extra privacy.
Lodging Features:
Screened in porch
Flat Screen TV and DVD player
1 King, 1 Queen, 1 Double
Double swinging bed
Full kitchen
1 bathroom with shower
Brick Fireplace
Fire pit
Occupancy:
Up to 6 people.
We Supply:
Firewood, bed linens, dish soap, hand soap, coffee filters, garbage bags, pots, pans, and dishes.
You Bring:
Towels for kitchen and bathroom, napkins, paper towels, spices, charcoal and lighter fluid for Weber grill.
Pet Policy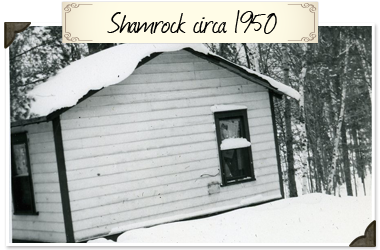 Shamrock was built in the 1930's and has a unique history. It was originally located in our shed area today as a caretaker's cabin. It was a 2 bedroom and was green and white, which is where the cabin gets its name. In the 1950's it was moved to its present location. It remained unchanged until 1992 when Craig and Troy dismantled most of the cabin. The only remaining part of the cabin that was kept was the big bedroom off the kitchen that looks out at the lake. To this day Shamrock's King bedroom has the best view off all the bedrooms.
The cabin today is a 3 bedroom with a king, queen and double. A brick fireplace is in the living room. The bathroom has a shower. A full kitchen with microwave, stove, fridge, coffee maker and all the pots and pans that are needed. The porch is one of the largest with antique wicker furniture and a double swinging bed.
The location of the cabin at the end has made it a favorite of folks that want a little privacy. It has Kaubashine on one side but then 100 feet of woods on its far side that separate it from Eagles Nest. The fire pit is a portable one with several Adirondack chairs, a picnic table and a Weber grill. The cabin is close enough to the playground that parents can enjoy a fire at Shamrock while the kids play on the playground.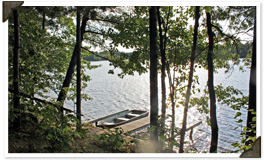 Shamrock shares a dock area with Kaubashine. A stairwell goes down in front of the 2 cabins to a dock area with 2 slips for either of the cabins to use. It is also a good area for dogs to swim when the main beach area is busy. A quick walk down the wood path takes you to the main beach. Shamrock is close to everything you need but still retains its privacy.