Lodging Features:
Screened in Porch
Flat Screen TV and DVD player
1 king, 2 Queens, 2 Twins
Double swinging bed
Large Full Kitchen
1 Full Bath, 1 Half Bath
Brick Fireplace
Fire pit
Occupancy:
Up to 8 people.
We Supply:
Firewood, bed linens, dish soap, hand soap, coffee filters, garbage bags, pots, pans, and dishes.
You Bring:
Towels for kitchen and bathroom, napkins, paper towels, spices, charcoal and lighter fluid for Weber grill.
Pet Policy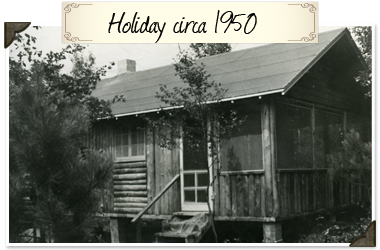 Holiday was built in 1950 as a log cabin by Maynard Black. It was loved for many years by guests but in 1999 we decided the old cabin needed to be redone. There is not much original to the cabin from the 1950's to 1999 except for the location and some furniture.
Holiday features a brick fireplace in the living room. A large screened in porch runs along the side of the cabin as well as half of the lakeside of the cabin. Only running 1/2 of the lakeside of the cabin enables the living room to look out directly at the lake without having to look through the porch as with many of the other cabins. A double swinging bed is the final thing that makes the porch a truly special place to be to relax.
Inside the cabin are 4 bedrooms with a king, 2 queens and 2 twins. Holiday has two bathrooms, one full bath with a shower the second smaller bathroom has a toilet and sink but no shower. The kitchen is fully equipped with microwave, coffee maker, stove, refrigerator and all the pots and pans you will need. The kitchen also has a 4 stool island that makes it an open concept dinning room, living room and kitchen area great for groups who like to be together.
Outside the cabin, Holiday has a fire pit area built into the ground with plenty of Adirondack chairs, a cedar swing, a Weber grill and a picnic table. Holiday has a stairwell right in front of the cabin that goes down to the lake to a dock area it shares with Norway and Restawhile.