Led by resident bird expert Troy, the resort is hospitable to many bird
species. Feeders located throughout the grounds attract hummingbirds in
the summer, and chickadees, nuthatches, and even big pileated
woodpeckers, in winter. Also, Lower Kaubashine is home to a pair of
loons and their babies. Jake, Ben and Grant are becoming experts at
imitating loon calls, taking after Jenny, who won the Mercer loon
calling contest many times. Also, 1/2 mile down the road is a creek where many birds have been spotted.
Another great birding spot is the Rainbow Flowage, an official Wisconsin Important Bird Site.This 5,000-acre habitat is home to Merlins, spruce grouse, black-backedwoodpeckers, gray jays, boreal chickadees, olive-sided flycatchers,yellow-bellied flycatchers, palm warblers, Canada warblers, Northernwaterthrush and evening grosbeak. Bald eagles and osprey nest aroundthe flowage; waterfowl congregate during migration; and shorebirdscongregate in the fall, when flowage drawdowns expose mudflats.
The Powell Marsh Wildlife Areacovers 4,300 acres, with a 1,800-acre refuge located in the middle ofthe property.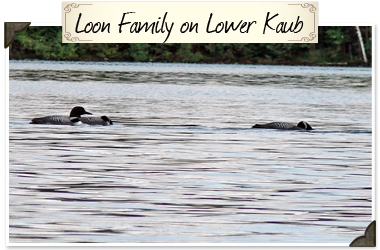 Common bird species include great blue herons, songbirds,
marsh hawks, eagles, sandhill cranes, Northern harriers, LeConte's
sparrows, short-eared owls, Nelson's sharp tailed sparrows, sharp
tailed grouse, Henslow's sparrows and Black Terns.
The North Lakeland Discovery Centeris also a featured site along the Great Wisconsin Birding & NatureTrail. Diverse populations of nesting and migrating songbirds, raptors,and waterfowl can be found along the center's 25 kilometer trailsystem. In addition to self-guided tours, the center offers manybird-related learning programs.