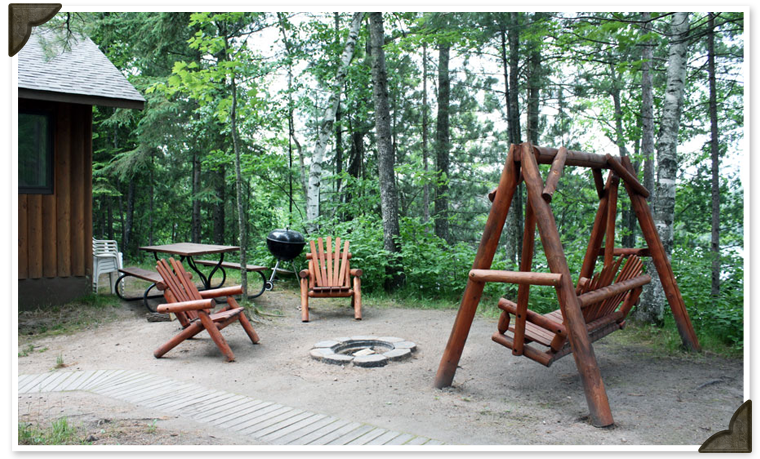 | | | |
| --- | --- | --- |
| | | |
| | | |
| Flat Screen TV and DVD player | | 1 bathroom with large shower |
Norway Pines was built in 1950 as a log cabin. It was loved for many years by guests but in 2003 we decided the old cabin needed to be redone. There is not much original to the cabin from the 1950's to 2003 except for the location, some of the furniture and the old pine bedroom doors. Located at the end of the resort it is in one of the more private locations with Holiday on one side but a 100 feet of trees between Norway and our closest neighbor outside the resort.
Norway features a brick fireplace in the living room. Its large screened in porch faces the grove of trees on the side of the cabin and the lake on the front, making it our most private porch. You can sit or sleep on the porch and only see trees and lake and hear very little noise. A double swinging bed is the final thing that makes the porch a truly special place to be to relax. Inside the cabin are 3 bedrooms all with queen beds. The biggest bedroom also has a twin in with the queen. Norway has one bathroom with large shower. The kitchen is fully equipped with microwave, coffee maker, stove, refrigerator and all the pots and pans you will need. The kitchen also has a 3 stool island that makes it an open concept dinning room, living room and kitchen area.
Outside the cabin, Norway has a fire pit with plenty of adirondack chairs, a cedar swing, a Weber grill and a picnic table. Norway shares a dock area with Holiday and Restawhile. The stairwell for this area runs between Restawhile and Holiday and allows guests to fish and dock their boats closer to Norway, without having to use the main dock area a block away.
We supply: firewood, bed linens, dish soap, soft hand soap, coffee filters, garbage bags, pots, pans, and dishes
You Bring: Towels for kitchen and bathroom, napkins, paper towels, spices, charcoal and lighter fluid for Weber grill
Check-in times: 1 p.m. fall, winter and spring - 3 p.m. summer.
Check-out times: 10 a.m. fall winter and spring - 9 a.m. summer.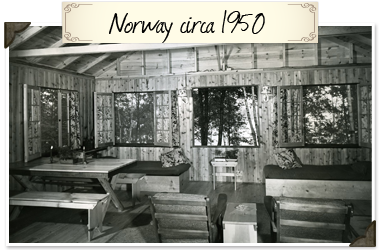 Rate Info
$190 - $275 / night up to 7 people
$1050 - $1825 / week up to 7 people
Please contact us for specific rate information based on when you wish to vacation at Black's Cliff Resort.
Phone: (715) 356 - 3018
Email: This email address is being protected from spambots. You need JavaScript enabled to view it.