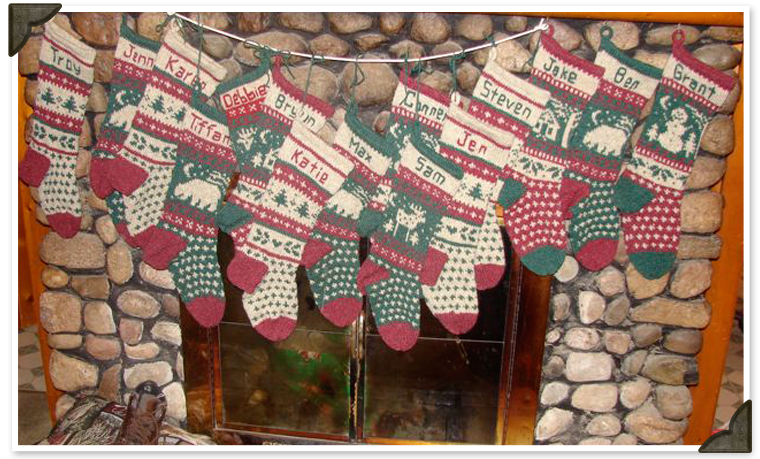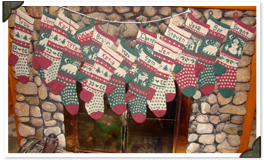 Besides running the resort and cleaning cabins, knitting is Jenny's hobby at night in front of the TV. Jenny makes Christmas Stockings, Christmas Balls by hand to sell. Christmas stockings are $50 each and that includes embroidering a name on the stocking. Stockings also come full patterned with a pattern where the name goes if you do not want a name on the stocking. Either call to order one or let her know ahead of time which ones you want and they can be shipped for an extra 5 dollars or pick up when you are here. Patterns are Bear, Moose, Cabin, Holly (also looks like a snowflake), Snowman, Angel, Tree and Santa. For the 4 legged members of the family she also has patterns for a dog and cat for 38$.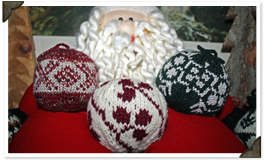 Jenny also makes Christmas Balls for 15 dollars and you can pick them up at the resort or they can be shipped for an additional $5/order. They look great in a basket, hanging anywhere around the house, or on a tree. The nice thing is some of them are general winter balls and could be hung up all winter long. More designs and colors added all the time. Email or call for details or stop at the resort to pick your balls out in person they will be available year round or call ahead for orders of the balls you would like.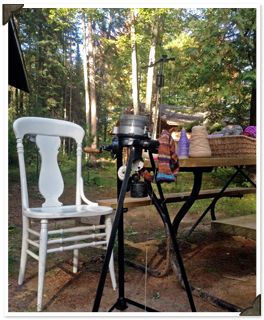 1914 Gearhart Knitting Machine. This machine was used during WWI and WWII to make socks for soldiers and has now found its place in Jenny's livingroom. Just ask for a knitting machine demo if you want to see it in action or listen for the sounds of clicking and clacking coming from the deck of the Gibson's home to see the machine in action.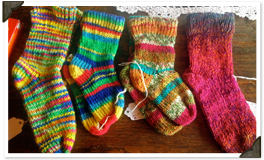 In 2013 Jenny found her 100 year old knitting machine and spent a month watching videos learning how to use it. Since then the machine has never stopped and gloves and socks have been flying off the machine. Socks and fingerless gloves are made from wool free, 50% wool and 75% wool yarns in all sizes. Mens, womens and kids socks there is something for everyone. Many guests have fallen in love with the 50% wool yarns that have 25% bamboo in them that soften the wool and make them not itchy even for picky feet. The bright fun colors of the wool free yarns especially neon pink for the teens have also been a favorite. The 75% wool yarns are for the die hard wool lovers and have had many repeat customers coming back for more. Stop in and check out what is done. They make great gifts for Christmas or birthdays. Orders can also be made and shipped.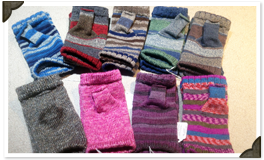 New in 2014 fingerless gloves made on the sock maker.
Sizes small, medium and large
Great for anyone who likes to text or for guys who want their fingers free to fish.