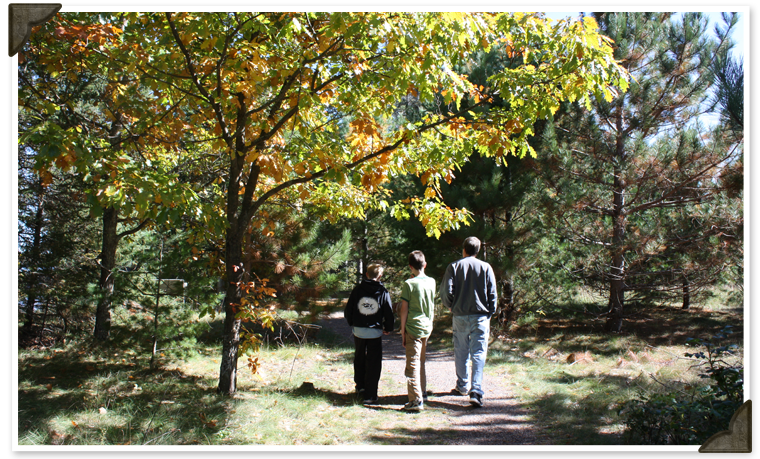 [
widgetkit id=14]
Hikers, bikers and birders can find plenty of well-worn paths and groomed trails near Black's Cliff. Take our on-site trail to see an undisturbed bog, or hike down the road to see Kitty Springs. On your way back, stop by Hilltop Resort's Rathskeller for the best on-tap root beer float in the Northwoods.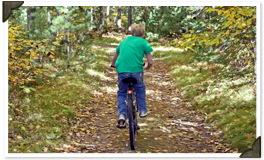 To get to the 18-mile Bearskin State Trail, travel just a few minutes from the resort down Lower Kaubashine Road, or take our more adventurous woodland detour. Go north through thick hardwood and pine forests, near lakes and over scenic trestle bridges to downtown Minocqua.

Stop for ice cream at Island City Ice Cream, located near the trailhead in downtown Minocqua, or at Charlie's Fine Cheese as you return to Hazelhurst. You may also choose to pack lunch, as the trail offers several scenic picnic spots that overlook local lakes.
If you take the trail south, the Bearskin follows the winding course of the Bearskin Creek, which is home to our native brook trout species. The 1888 train shack is an interesting place to stop, the last remaining train building standing on this old railway bed. If you continue south, the Bearskin meets up with the six-mile Hiawatha trail, which leads to Tomahawk.

Located just five minutes from the resort off of Hwy. 51, the Schlect Lake Trail's natural grassy knolls wind through the woods, offering great views of Lake Tomahawk. For shorter hikes, this 10-kilometer trail has lots of signs that lead back to the parking lot.
Both the Raven and Madeline Lake Trails are located 10 minutes northeast of the resort. The Madeline offers four marked trails with differing scenery and terrain that follow old logging trails and wind around three lakes. The Raven is comprised of three loops that traverse rugged hills and wild woodlands near three lakes. For bikers, numerous single track trails wind through diversified and cheelenging terrain. The nature loop has interpretive signs and plenty of benches to sit on to contemplate the old stands of pine and hemlock. This trail also offers a plank bridge that crosses a bog, making it easy for youngsters to get close-up views of pitcher plants and other native flora.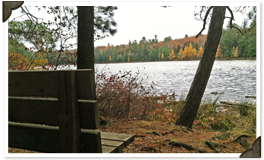 Located just 12 minutes southeast of the resort, the quiet seven-mile McNaughton Lake Trail is an excellent place for those who want to get away from it all. A boardwalk sets up a great view of McNaughton Lake. Along the way, you'll also pass through tall sands of hemlock and pine. A shelter at the south end of Helen Lake makes a nice stop for lunch.

The 11-mile, blacktop-paved Crystal Lake Trail runs from downtown Boulder Junction, along Cty. M, past Trout Lake, ending at Crystal Lake in Sayner. Because of the level paved terrain, this trail is a must for families with children who are looking to enjoy the woods, with lots to see and places to stop along the way. This trail is located 15 minutes from the resort, north of Woodruff.
All children coming to Black's Cliff are encouraged to bring their bikes. Kids love to just bike safely around the resort, enjoying a little freedom.
If bringing your bikes along is a problem, call BJ's Sports at (715) 356-3900 for information about bike rentals. If you plan to bike or hike a state trail, don't forget to purchase a state trail pass.