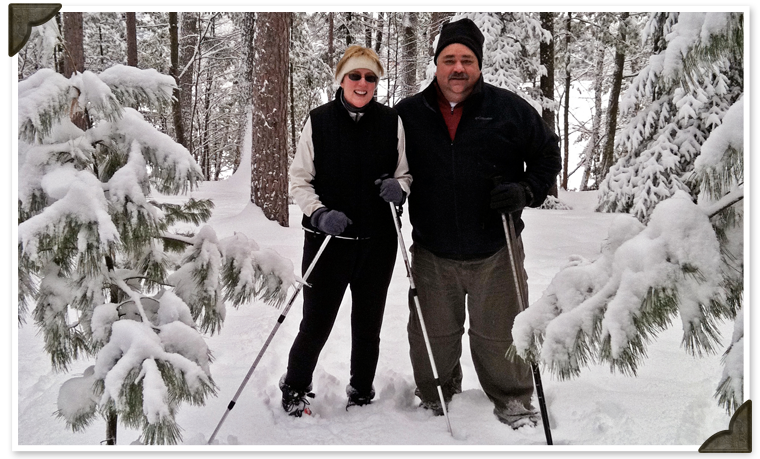 You can't go wrong with a cross country skiing or snowshoeing vacation at Black's Cliff resort. Nearby snow shoe trails are easily accessed from the resort. And, the 10-kilometer Schlect Lake Trail is located just a mile north of Hazelhurst. This trail is groomed and a portion is well-lit for night skiing until 10 p.m.

We are also located just seven miles away from Minocqua Winter Park Nordic Center.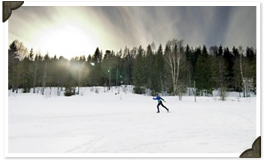 Directions to Minocqua Winter Park
1. Head west on Lower Kaubashine Rd toward Hilltop Rd/Tranquility Trail
2. Slight left at Camp Nine Rd
3. Turn left at Scotchman Lake Rd
4. Turn left at Squirrel Hill Rd
5. Squirrel Hill Rd turns slightly left and becomes Winter Park Rd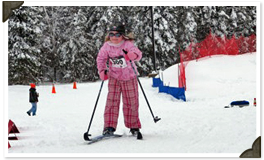 Minocqua Winter Park offers:
75 km. of groomed terrain, with 65 km. groomed for skating and/or striding
Open daily except Wednesdays (open Wednesday during Christmas holidays)
Two specially groomed children's loops and a snow shoe loop
Open telemarking slopes
Chalet with cafe, day lodge and heated waxing room
Babysitting available Saturday, Sunday and holidays
Ski shop - retail, rental and a certified ski school
*New to Minocqua Winter Park: Tubing
Minocqua Winter Park plans to have 3 to 4 side by side runs with an auto loading handle tow lift system to bring you
back up to the top of the Squirrel Hill Tube Runs.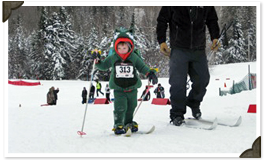 In addition, several Northern Highland - American Legion State Forest trails are available in the area, ranging from 2.9 to 12.5 miles in length. These trails may be groomed or un-groomed, and they encompass a range of difficulties.

You can also check out the North Lakeland Discovery Center for more than 20 kilometers of trails, guided ski trips, snow shoe tours and other environmental learning activities.

Or, take an extended day trip to Active Backwoods Retreats (ABR). Located in Ironwood, Michigan, ABR is within a 60-minute drive from the resort, providing cross-country ski trails that cover 600 acres of private land of varied terrain.
For a day of family downhill skiing and snowboarding, check out Camp 10. Offering 10 runs, night or day skiing, a cafeteria and very affordable rates, Camp 10 is less than a 45 minute drive from the resort.
Other downhill skiing destinations within an hour of the resort include Powderhorn and Blackjack in Bessemer, MI; Whitecap in Montreal, WI; Indianhead in Wakefield, MI; and Granite Peak in Wausau, WI.
To rehabilitate your tired muscles after a long day of skiing on some of the finest trails in the country, take some time to enjoy the cedar sauna at Black's Cliff.