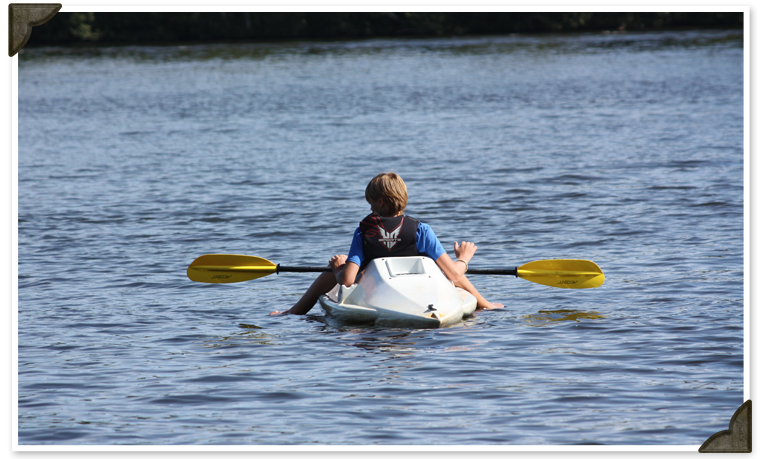 Black's Cliff offers many different ways to enjoy Lower Kaubashine by boat.
Complimentary Boats - no charge
We have plenty of these boats and do not keep track of them. Guests take them out and return them with no charge.
Motor Boats

Motor Boats are checked out through the office and have the following charges. You may reserve in advance or let us know when you get to the resort. We usually have plenty of motors.
| | |
| --- | --- |
| 8 horse motor: $45/day or $250/week plus gas | 9 horse motor: $50/day or $280/week plus gas |
Pontoon Boats

We have 2 small sized pontoons and 1 large pontoon for rent. They may be reserved in advance or just let us know when you are at the resort what times you are interested in.
Small Pontoon (up to 8 people): $40/hour, $80/4 hours, $150/full day or $900/week plus gas
Large Pontoon: $55/hour, $100/4 hours or $175/full day plus gas
Bring Your Own Boat or Motor

Guests are welcome to bring their own boat as long as it is under 18 feet or less and not an inboard. We also do not allow jet skis and wave runners. We like to know for parking how many guest boats are coming so please let us know if you are bring a boat. Our launch is at Hilltop Resort where they charge 5 dollars to launch but at the same time give you a coupon for the bar for 5 dollars. Hilltop's launch is on their beach and in the summer they limit the launch hours to before 10 am and after 4 pm and all day on Saturday is open for launching.
If bringing your own motor please ask which boat to put your motor on. Some of our boats are just row boats and some are better for motors. Just ask before taking a boat to put your own motor on.
In order to prevent invasive's in the lake we insist all guests wash their boat and empty all bilge and water tanks before launching. We have a hose set up for this, please ask if you have not already washed your boat.